No one's faith grows in isolation.  Everyone needs community as well as pioneers, fathers, and mothers in the faith who have paved the way.  They are the ones whose stories shape ours.  One of those people in my life is Dr. Rob Reimer.  He currently serves as the lead pastor of South Shore Community Church right outside of Boston, MA.  He also teaches at Alliance Theological Seminary for both the M.Div program as well as the Doctorate program.  And that's where I first met him when I took one of his classes, and since then he has made a tremendous impact in my life.  Last weekend I had the great honor and privilege of sitting down with him and interviewing him about revival.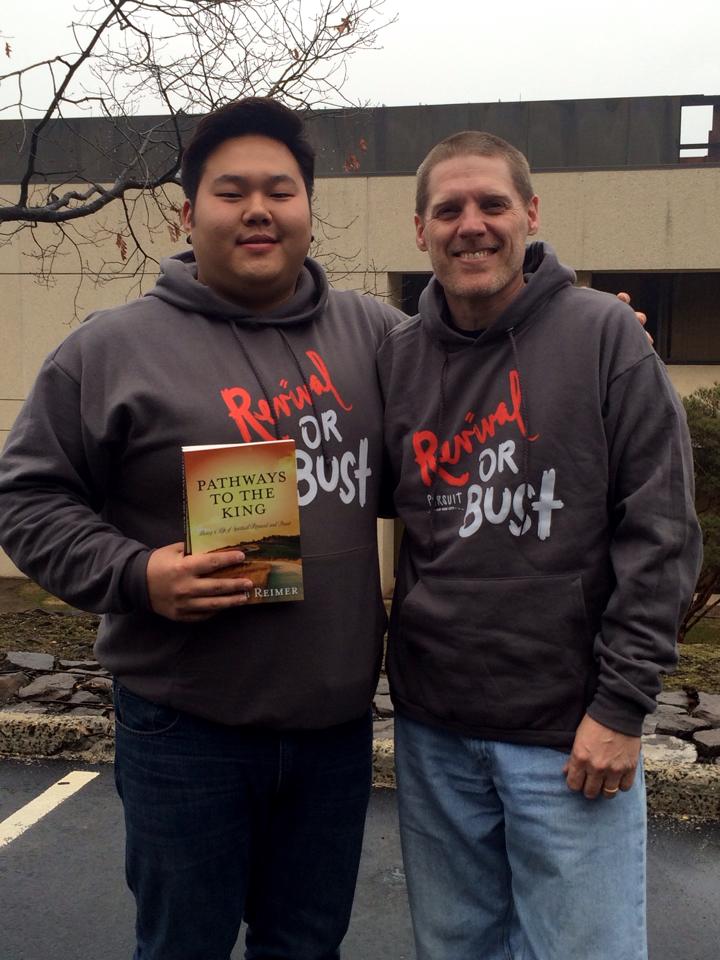 His life has been an excellent example to so many of what it means to live in the light and pursue after intimacy with God.  He is someone I consider to be a true revivalist and an authentic teacher of the faith.  Everything he teaches on and shares about comes straight from his own journey with Jesus.  He speaks with authority because he has walked through everything himself.  Just being around him stirs my soul for more of God.  So when I sat down with him for the podcast, it was no different.
The first question I asked him was how he defined revival, and he said it was the restoration and renewal of all things back to the way that God intended before sin entered the world.  That means that when revival comes, the sick are healed, the oppressed are set free, the lost are found, the demonized are released, and God is glorified.  So how do we get to see revival come?  What are the keys to revival?  Simply put the answer is intimacy with the Lord.  Dr. Rob Reimer then shared from the life of Moses, who lived face-to-face with God.  You can listen to more about face-to-face intimacy with the Lord as well as what it means for the walls of our souls to thicken from this interview here.  It will definitely cultivate a hunger for more of God and really challenge you to go deep with Him!

As we wrapped up our time together, I had the chance to ask Dr. Reimer about his book, Pathways to the King, which can be purchased here.  This book will definitely provoke you to pursue God.  And you have a chance to own a copy of your own for free!  Dr. Rob Reimer generously donated 2 copies of his book to giveaway.  We will have both a Facebook giveaway as well as a Twitter giveaway.  Read below for the official terms & conditions, and both giveaways will go live at 12 PM on Friday April 4, 2014!  Best of luck to all who enter!
—
TERMS & CONDITIONS FOR FACEBOOK GIVEAWAY
Pursuit NYC (http://pursuitnyc.org) is the promoter of the giveaway.
No purchase necessary to win or to enter, and does not aid in chances of winning.  The promotion is open to residents of the US aged 18 and over.
To enter, visit the Pursuit NYC page (http://facebook.com/pursuitnyc) "like" the page as well as Dr. Rob Reimer's page & like the corresponding picture that will be posted on or about 12 PM on Friday April 4, 2014.  Entries must be submitted between this time until 12 PM on Saturday April 5, 2014.  Entries received after the promotion has closed or received by any other means will not be accepted.  Your personal information will not be shared in any way outside of this promotion and the announcement of winning.
Only one entry per person.  Odds of winning are based on number of entries.  Applications via agents/third parties or by using multiple Facebook or email accounts are not permitted.
There is one prize of  the book, Pathways to the King by Dr. Rob Reimer.  The prize is as stated, is non-transferable and no cash alternative is available. 
The winner will be chosen by random and will be contacted via Facebook message.  The winner must reply in order to confirm the prize.  Failing to do so will forfeit the prize, and another winner will be selected at random.
The Promoter cannot guarantee continuous, uninterrupted or secure access to the Facebook Pages and is not responsible for any disruption to the promotion or the Facebook Pages due to technical problems or otherwise due to events outside of its reasonable control.  Proof of submitting an email is not proof of receipt by the Promoter.
The Promoter reserves the right to amend or suspend the promotion at any time without giving advance notice.
In order to participate in this promotion, applicants must accept Facebook's terms and conditions, although it is acknowledged that this promotion is not sponsored or endorsed by, nor associated with, Facebook.  Entrants release Facebook from any and all liability arising out of or in connection with their participation in this promotion.
On receiving the prize, the winner releases Pursuit NYC from all liability of said product.
The promotion and these Terms and Conditions shall be governed by and construed in accordance with local laws where applicable, and complies with all local regulations.
By participating in the promotion, applicants are deemed to have accepted these Terms and Conditions.
Comments
comments