In one of the most exciting and competitive NBA seasons of late, the Golden State Warriors have the best record this year. They are a fun team to watch on both ends of the court. Offensively and defensively, this team has excelled and their team chemistry has been noted throughout the media. While superstar Steph Curry might grab most of the headlines, what stands out the most to me is that they are led by a first year coach in Steve Kerr.
It is remarkable what Coach Kerr has done, and is rightfully one of the leading candidates to be coach of the year. He took an already good team, and took them to the next level in just his first year of coaching ever! The Warriors aren't just the best team in the league this season, but statistically, one for the ages. How does a rookie coach succeed so quickly? While there are many reasons, I think one thing that can't be overlooked is the fact that while as a player himself, Kerr, played for 2 of the greatest head coaches of all-time.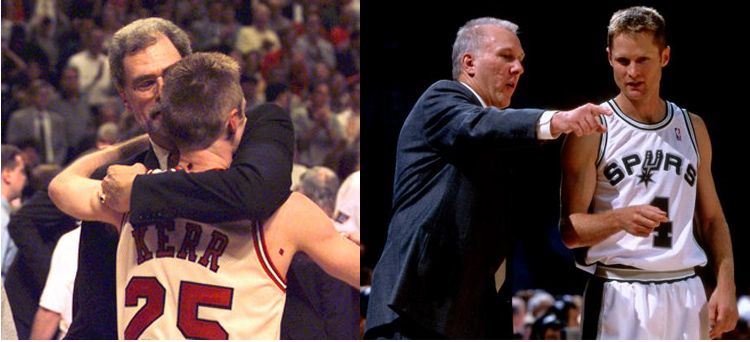 Under the tutelage of Phil Jackson and Gregg Popovich, Steve Kerr won multiple championships, first with the Chicago Bulls and then with San Antonio Spurs. Kerr also played with some of the best players ever in Michael Jordan, Scottie Pippen, and Tim Duncan to just name a few. One cannot be around excellence and hard work, and not learn the ins and outs of the game. I am sure as a player, Steve Kerr saw how the best did it day after day. Who we surround ourselves with affects us more than we know, not just in the present, but for our future as well. I believe there is so much power in learning from those who have gone before you, and then passing that on to others.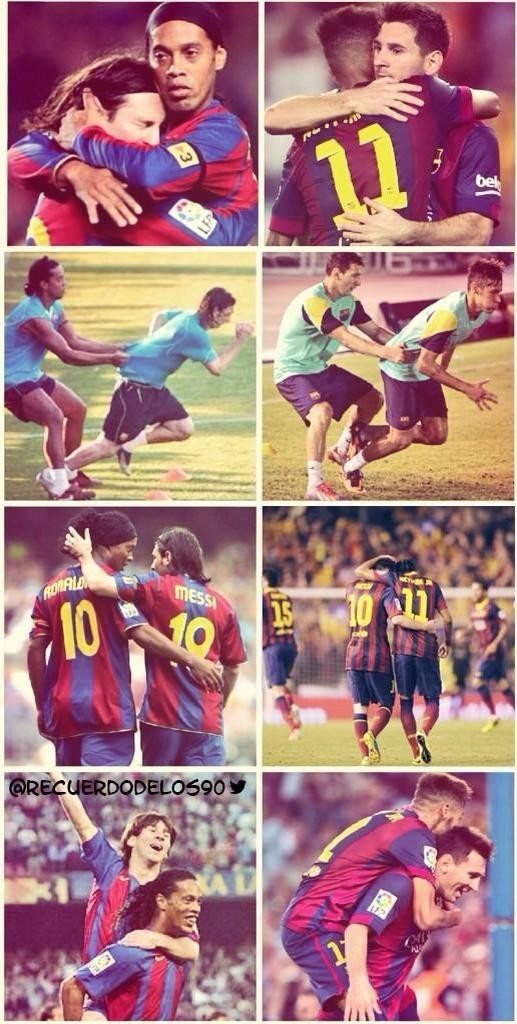 We see the power of passing it on in all sports. The photo above is one of my most favorite pictures because it's so inspiring! Ronaldinho in his prime was arguably the best player in the world. Soon his young teammate, Lionel Messi, would take that title, and even do greater things. Currently Messi is not only one of the best players in the game today, but ever! And now he too has taken a young, talented teammate under his wings by the name of Neymar. What Ronaldinho did for Messi, Messi is now doing for Neymar so that he too can pass it on to whoever follows next in his footsteps.
I believe wholeheartedly that we only go as far as the people in our lives. Everything I am and do is the result of countless leaders, pastors, and mentors who have invested and poured into my life. They are the ones who loved me, believed in me, corrected me, encouraged me, and showed me the life I wanted to live. Apostle Paul says in 1 Corinthians 11:1, "Follow me, as I follow Christ." That's the whole point of this faith. We were not called to make converts or church goers or anything else except disciples. Discipleship is simply passing it on in the context of doing life together!
No matter where you are right now, it's never too late to seek out mentors or leaders to invest in you. Take the risk and ask! Also you don't have to be an expert or miles ahead of others to be able to help those on the journey. Jesus said, "Freely you have received, now freely give" (Matthew 10:8). Just pass on what has already been passed to you for there is power in passing it on!
Comments
comments