The Beauty of Grieving by Catherine Cha
One of the most valuable things I learned during my years at Alliance Theological Seminary was the discipline of grieving the seasons of my life. I've always been prone to melancholy and nostalgia, but never had words to adequately convey or coherently cry out what I was feeling, and why. I never knew what to do about the pulsating weights that would press on my heart and my gut every now and then. I never knew how to dissolve the lumps that would form at the back of my throat, or reverse the downward trajectory of the corners of my lips on those days when all I wanted to do was pout and whimper. I never knew why everyone around me was so happily looking forward to the next day, the next year, the next step, the next change, and I was the only one looking backwards and longing for what once was and never will be again. I never knew that I could grieve these things – these never-again moments – and give them a proper send-off so that I could say "hello" to the new.
Learning to grieve the passing seasons of my life – and thus, strangely, becoming more able to celebrate the wonderful and not-so-wonderful days that were flowing by – has made me more self-aware, and more grateful, having more capacity to honor the One who gives them to me in the first place.
June 8, 2015, was the 365th day that my daughter Sasha has been with us. On June 9, 2015, she turned 1 year old, and a whole new clock started running. A whole new season began.
And I grieved.
I wasn't sad; of course not! In the build-up to her 1st birthday, Sasha was busting out new moves, new sounds, new "words." She was eating bigger bowls of food, inhaling larger chunks of fruit and bread and meat, drinking fuller cups of milk. She was putting puzzles together, sequencing activities, pretend-playing, lecturing stuffed animals, pointing at what she wanted, pushing away the things she didn't want. She was smiling and laughing and hugging and pulling and nuzzling and clapping and flirting and waving and commanding and babbling and dancing and kissing. She had grown as tall as her changing pad, and had become strong like a bull! Sasha was everything joyous we ever wanted our 1-year-old daughter to be.
But I was sad; of course I was! When I put Sasha to bed on the night of June 9th, that was the last time she nursed from my body. When she turned 1, she was no longer the fragile immobile infant we tried to shield from everything and anything. She now feeds herself with her own spoon (mostly). She turns the pages of her books herself. She moves my hand aside when it gets in her way. She cranes her neck hither and thither to see all that is out there, beyond me. She takes bold steps, holding our hands. Her favorite toy is her baby-tricycle, and her favorite thing to do is move, move, move. Independence encroaches. Already, the process of letting go has begun. I weep even as I write these words. I want all the world for Sasha; I just can't believe she's already getting ready to reach for it.
This is the beauty of grieving. To be so uncontrollably thankful for all that came before. To be so utterly heartbroken that it is over. To be so humbly hopeful for what is to come. All wrapped up in disbelief and wonder.
And this is how grieving strengthens my soul. Because proper surrender enables me to say, "Father God, thank You. Now, please, catch my tears, and have them overflow into joy."
---
About the Author: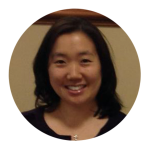 Catherine is, first & foremost, a follower of Jesus Christ, a devoted wife to Danny Cheong and loving mother to Alexandra (13mos).  They live in Westchester County, and worship together at New Hope Fellowship (Tarrytown, NY).  Catherine is passionate about defending the weak, pursuing justice, cultivating Christ's heart in coming generations, empowering (especially) young women to walk in the Father's destiny for them, and raising up Christ-followers who will love the world and bring the Gospel to the ends of the earth, so that Jesus Christ will come.
Catherine teaches at Nyack College as an Adjunct Lecturer / Internship Coordinator in the Department of Criminal Justice, focusing on Criminal Law and Constitutional Law, from the perspective of restorative justice.  She also works in Alliance Theological Seminary's Office of Field Education, encouraging seminary students to dream big for the Kingdom of God.  Off-campus, Catherine continues to serve private clients as an estate-planning attorney.  When she isn't working, Catherine can be found binge-watching "Law & Order," cooking up a storm, or trying to teach her 13-month-old daughter to read.
Comments
comments