I once heard that after their formal education and college years, the average adult does not pick up another book.  And if they do, it is just a fraction of that minority that actually finishes a book.  Mark Twain keenly noted, "The man who does not read has no advantage over the man who cannot read."  Elsewhere I heard Jim Rohn remark on stage that only three percent of adults in the U.S. own a library card.  A mere three percent!  Can you imagine?  Which is why I suppose the Christian real estate billionaire Peter J. Daniels observed, "Never before have the libraries of the world been so full, and never before have they been so empty."
'The man who does not read has no advantage over the man who cannot read.' - Mark Twain Click To Tweet
The last verse of the Gospel of John (John 21:25) still leaves me flabbergasted, years after I first read it.  No doubt when my time on Earth comes to an end and my new life begins, you will find me perusing through God's library (good thing I'll have eternity to do it!)  In fact, I hope God's current librarian plans on retiring when I get there, so I can fill those wings.
I am a voracious reader.  I picked up the habit of reading books (cover to cover) in my early 20s, because I had many mentors encourage me to.  In reading I found even more mentors, and I expanded my awareness, thinking, and consciousness through swimming across a wide ocean of subjects – psychology, philosophy, personal and professional development, leadership, business, finance, human nature and relationships, history, biographies and autobiographies, and so on.
I had many mentors encourage me to read. In reading I found even more mentors.
Click To Tweet
Here are five books on the Christian faith that you'll find in my library.  It is not a top 5 list, as it would be nearly impossible to construct such a list.  It is in no particular order, and it is certainly not all inclusive, or exclusive, for that matter.  Just 5 books among many that have had an impact on my walk of faith and brought me closer to the heart of the Father.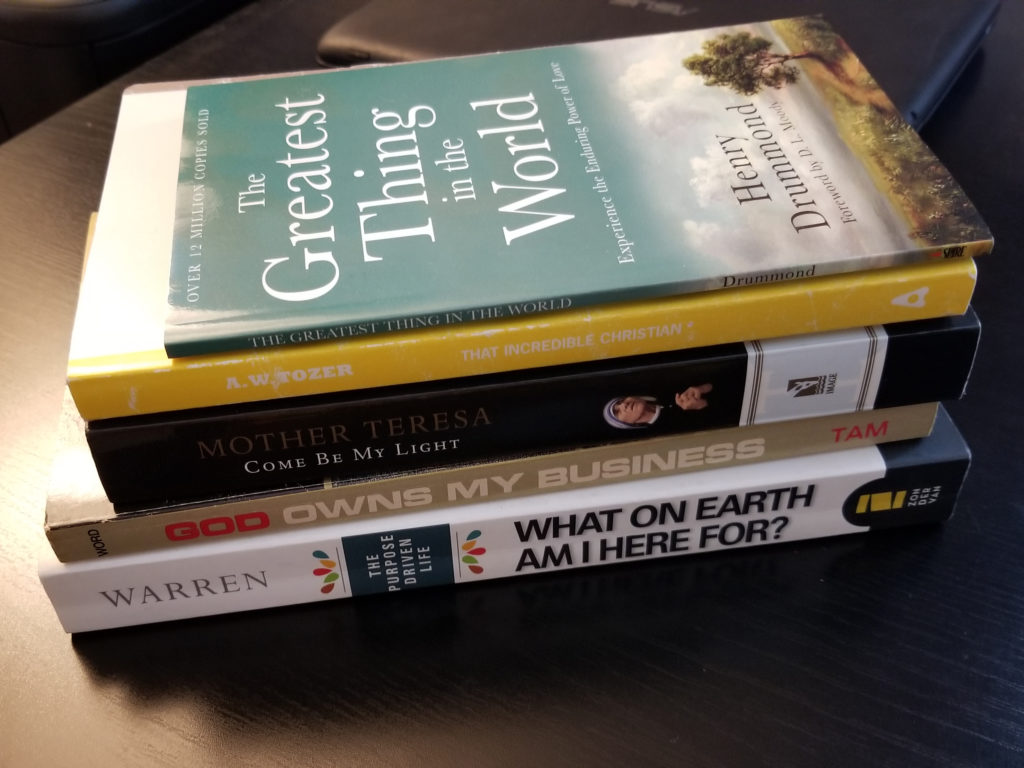 The Greatest Thing in the World by Henry Drummond
As you might have already guessed, this book is about love.  Henry Drummond was a 19th century Scottish evangelist and biologist, and his sermon on love is still widely circulated and read today.  Drummond takes First Corinthians Chapter 13, the famous Biblical passage on love, and blows it into magnificient proportions.  You cannot read it without your soul vibrating to the rhythm of love, and you will finish it sensing a higher calling to love more widely, deeply, and unconditionally.
That Incredible Christian by AW Tozer
Tozer was, in my opinion, one of the greatest Christian writers and lecturers.  That Incredible Christian is a carefully chosen collection of his editorials during his time as editor of what is now the Alliance Life.  My copy is underlined and highlighted, and re-underlined and re-highlighted.  His insights on God the Father, God's will and purpose for our lives, our identity as citizens of a greater Kingdom, are supernaturally and divinely revealed.  Tozer was rightfully called a modern day prophet.
Mother Teresa: Come Be My Light Edited by Brian Kolodiejchuk
The private journal and writings of the Saint of Calcutta.  Unbeknowst to most of the world before this book was published, Mother Teresa struggled during most of her ministry with feeling the absence of God in her life.  Many of her journal entries mirror the psalms of King David – despair and doubt, but ultimately steadfast in God's promises and goodness.  Mother Teresa wrote, "If I ever become a saint, I will surely be one of 'darkness'.  I will continually be absent from Heaven – to light the light of those in darkness of Earth."  No one would have suspected that she herself felt in the dark.  But this book will prepare followers of Christ for one of their greatest battles – the difference between what we feel and what we know.  Don't trust your feelings.  Trust what you know God says about you.
God Owns My Business by Stanley Tam
I love reading about people who have won big doing it the right way.  It proves that nice guys don't finish last, and there is a way to reach the top that glorifies God.  At a watershed moment in his career, Stanley Tam decided to turn over the day to day operations of his business to the source of Wisdom, and the rest, as they say, is history.  Of course there's more to the story than that, so you'll have to read the book.  It's not a book about business, but a book about surrender, obedience, and trust.
The Purpose Driven Life by Rick Warren
We're not put on this Earth to just pay bills and die.  You have a greater purpose in this world, in your lifetime.  Your challenge is the same as mine – we think too small.  The Purpose Driven Life has sold sixty million copies worldwide since its initial publication, which makes it the best selling hard cover faith-based book of all time after the Bible.  But I wonder, sixty million sold but how many millions read?  Do yourself a favor as you head into 2018 – buy it and do what most won't.  There is no way to adequately capture its essence in a few short sentences.
Comments
comments